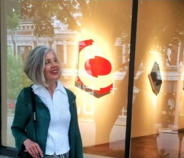 Nicki's Central West End Guide
Arthur Culbert, CWE Farmer, invited me to stop by the CWE Farm (located on Waterman west of Kingshighway) in early April to observe New City School 4th graders as they learned about bats.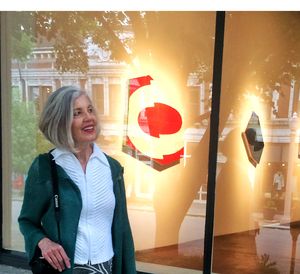 Nicki
'
s Central West End Guide
Instead of my usual Sunday post of a single photograph of something lovely in an urban garden, I decided to feature photos from a visit I made to the CWE Farm last Thursday morning. It's where I took my latest banner photo of a migrating Monarch as well.
PBS Channel 9 HECTV
The well-known saying goes, "when life gives you lemons, make lemonade." Well when life gave Dr. Arthur Culbert an idea, he decided to use it to create a garden. For the past few weeks, we have been previewing an all-new episode of Impact that airs next week and today we are going to share another glimpse of what you can expect in this exciting program! In this particular segment, we follow the former Dean of Boston University School of Public Health and Medicine as he helps to thrive the environment and the people around him.
Nicki
'
s Central West End Guide
One blustery February afternoon New City School 4th graders and their teachers were introduced to an urban garden they were adopting as part of a curriculum on citizenship. The fruits of the children's farming efforts were to benefit two food pantries in the Central West End, one at Trinity Church and the other at Second Presbyterian Church. Involving the children in the gardening effort was the idea of indefatigable CWEA Board Member, Arthur Culbert. The plot of land on Waterman had been farmed for the same purpose the year before by a group from Health Literacy Missouri on Euclid (see post here).
PBS Channel 9 HECTV
We explore the infamous St. Louis question, "Where did you go to high school?" Could choosing between a public or private high school affect your future opportunities and income? An economist weighs in, and a panel of six college bound high school seniors offers advice for parents and middle schoolers. We'll also show you around Ritenour High School's new multi-million fine arts facility and find out why this school district invested in it. You'll meet a middle schooler who built a popular website and published a book. Finally, learn about the health benefits of philanthropy.
Nicki
'
s Central West End Guide
This morning Urban Farmer Arthur Culbert sent the following note and accompanying photos which I am delighted to bring to your attention.
"Good morning Nicki. I hope you are well. I wanted to share with you that I was Inspired by Mary Engelbreit's work (see previous post) and I wondered what I could do. Nancy and I decided to miss a week (first in four years) of deliveries to our two food pantries here in the CWE (Trinity and Second Presbyterian Churches) and instead take this beautiful bounty, above, of more than 100 pounds of fresh greens and other vegetables to the residents of Ferguson."
West End Word
The mention of "food pantry" calls to mind boxes and bags of packaged foods and canned goods. But the shelves of two Central West End food pantries also include fresh produce, grown locally at a volunteer-powered community garden.

Earth Day marked the first anniversary of a community garden tucked away at the back of an open lot in the 5000 block of Waterman Avenue. In its first year, the garden has yielded more than 1,000 pounds of all manner of vegetables and fruits to benefit the community.
Nicki
'
s Central West End Guide
I am extremely grateful to Urban Farmer Arthur Culbert for sending the beautiful photos and copy for this morning's post on the Central West End Farm on Waterman Avenue west of Kingshighway. I think you will agree that his enthusiasm for the project is infectious - a perfect start to a new week!
Nicki
'
s Central West End Guide
It's taken the village to implement a clever idea to raise funds for 2013's community garden on Waterman, just west of Kingshighway. Arthur Culbert, the "urban farmer" behind the organic garden, has enlisted New City School 4th graders to help plant and tend the garden as part of a curriculum on citizenship. Arthur reported that this year's bumper crop produced more than 1000 pounds of produce that was distributed to clients of the neighborhood's food pantries (Trinity Church on Washington at Euclid, and 2nd Presbyterian Church on Westminster at Taylor).
Nicki
'
s Central West End Guide
One day last week fourth graders from New City School walked over to Trinity Church's food pantry on Washington with a 14-pound watermelon they had grown at a community garden for the pantry's clients. After enjoying a slice of the watermelon a woman remarked that the watermelon "was the sweetest she had tasted all year."
Nicki
'
s Central West End Guide
It seems that there is always more to say about a topic after I post it, so today I'm throwing out some odds and ends left from the summer, in order to cover as many bases as I can before I escape to San Francisco for a few days. June'..
Nicki
'
s Central West End Guide
Mary Scheuermann, above, a graduate student at Washington University's George Warren Brown School of Social Work, is studying public health with an emphasis on community food systems. This happens to be a win-win for the CWE as Mary is currently interning at Health Literacy Missouri, an organization I have mentioned several times. Last summer, as an intro to community gardening, Mary interned at City Seeds, a City of St. Louis gardening program under the umbrella of Gateway Greening.